Demoing Blackwood Crossing at gamescom 2016 was such a positive experience. Albeit an exhausting one!
We were on the Ukie stand, complete with British tea party theme. Thank goodness for the fresh juices on offer, particularly on a slightly jaded and fuzzy Friday morning!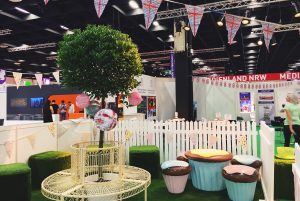 We did just under 50 demos to press in 3 days – including to Canard, IGN UK, and a live stream on Twitch! A rammed but successful schedule – thanks to the efforts of the ICO PR team.
Feedback from press was universally positive, and we were super chuffed to be awarded the 'British Game of Show' award from Ukie. Our first award, woohoo! Hopefully the first of several to come 😉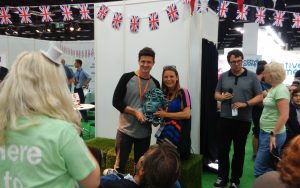 These were our first 'hands on' demos, so it was a little nerve-wracking. But the build was strong, and even on a busy show floor we were able to get across the variety of gameplay, and the intensity of the story.
The demo on the big screen drew crowds of onlookers, and received lots of compliments, and we had to turn away people who wanted to play the game, keeping instead to the packed interview schedule.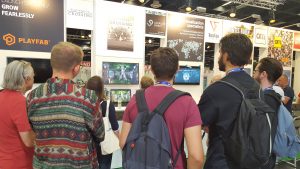 On Friday afternoon we did a mad dash across the massive Koelnmesse, home of gamescom – through the hot and sweaty throng of gamers – to the Twitch stage. It was a rush to get the build up and running and connected up, but the Twitch team were great, and within 10-15 minutes we were live on stage, with the game streaming to the big screens.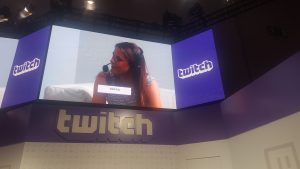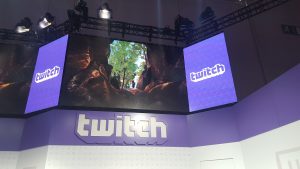 The game's art style was praised throughout the demos, as was the quality of the characterization and the animation. The environments, the emotive expressions on Finn's face, and little touches like being able to look down and see yourself climb the ladder, were all called out. And everyone agreed that Scarlett and Finn's relationship is very authentic.
Our first reveal trailer also got a lot of love – and everyone was intrigued by the darker side of the game that comes through in this.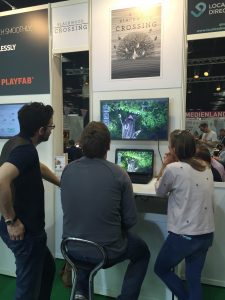 One of the many highlights included a 35-year-old Italian journalist getting goosebumps during the scene where Finn and Scarlett talk about the impact of their parents' death. And there were genuine tears in his eyes! That's what we like to see 🙂
Dom Schott, writer for Gamespilot / GamePro Germany, said Blackwood Crossing was his "favourite game of gamescom" and called it a "beautiful thing". Super praise indeed!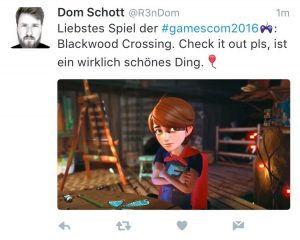 We now look forward to taking the game out on the road again – next time to press in San Francisco. And then it's onto our first public hands on event in Seattle.
Bring it on!